The history of the club
Hotels of the Cap d'Agde coastline's group
Le Club des hôteliers du Cap d'Agde is an active association which grows every year for the last 20 years.

Today, the association counts 17 hotels, and its main goal is to analyze each season and propose an appropriate offer of their services on the station.

Its cohesive strenght helps to face the evolution of tourism and adapt to it, especially in Cap d'Agde with all the actual projects of development.

Since a few months, to face unequal and excessive fee schedules of the OTA (Online Travel Agencies) like Booking.com, the association is really focused to improve direct booking from the customers, without any intermediary. The impact of this commitment seems to be real, the balance sheet of the last general meeting reveals a clear increase of these direct bookings.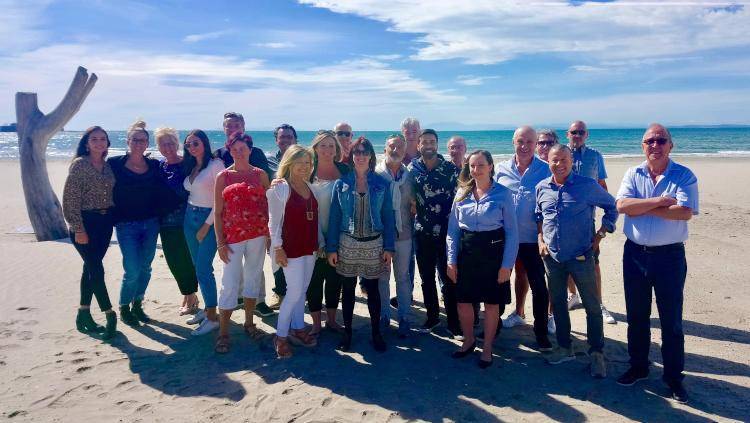 Its history
On 13 November 2001, three hotel managers on the Cap d'Agde station, Mr BLOUET Alain, Mr MATHIEU-DAUDET Michel and Mr BAJARD Gilles, had the idea to meet and decided to set up the association GHLA (Groupement des Hôteliers du Littoral Agathois).
New Office:
President
: Mr. Frédéric PUECH
Vice-president
: Mr. Alain BLOUET
Treasurer
: Mrs Marie BAJARD
Vice-treasurer
: Mr Yves MARCHAND
Secretary
: Mrs Alexandra MARTINEZ
Social Networks Manager
: Mme Mélanie BLOUET
Today, it has among its members 17 hotels of the Agathois Coast which have been added over the years:
2* Hotels: Hôtel Alhambra **, Hôtel Azur **, Hôtel Le Bellevue **, Hôtel Tennis International **
3* Hotels : Hôtel Capao ***, Hôtel Eve *** (camp naturiste), Hôtel Gil de France ***, Hôtel Hélios ***, Hôtel La Bergerie du Cap ***, Hôtel La Grande Conque ***, Hôtel La Voile d'Or ***, Hôtel Les Grenadines ***, Hôtel Opal ***
4* Hotels : Hôtel Mercure ****, Hôtel Palmyra Golf ****, Hôtel Cap Pirate ****
5* Hotels : Hôtel Oz'Inn ***** (camp naturiste)